Cranberry, Cashew & Almond
6 snack bars in a pack
Regular price
Sale price
₹

450.00
Unit price
per
Sale
Sold out
(Inclusive of all taxes)
Unwrap my snack bar wrapper and you'll find almonds, cashew nuts, peanuts, wild-honey, cranberries, pumpkin seeds, sunflower seeds, coconut flakes, cinnamon powder, salt & natural vanilla extract. Wasn't that a mouthful! So, give your heart to me… so I can look after it with healthy fats.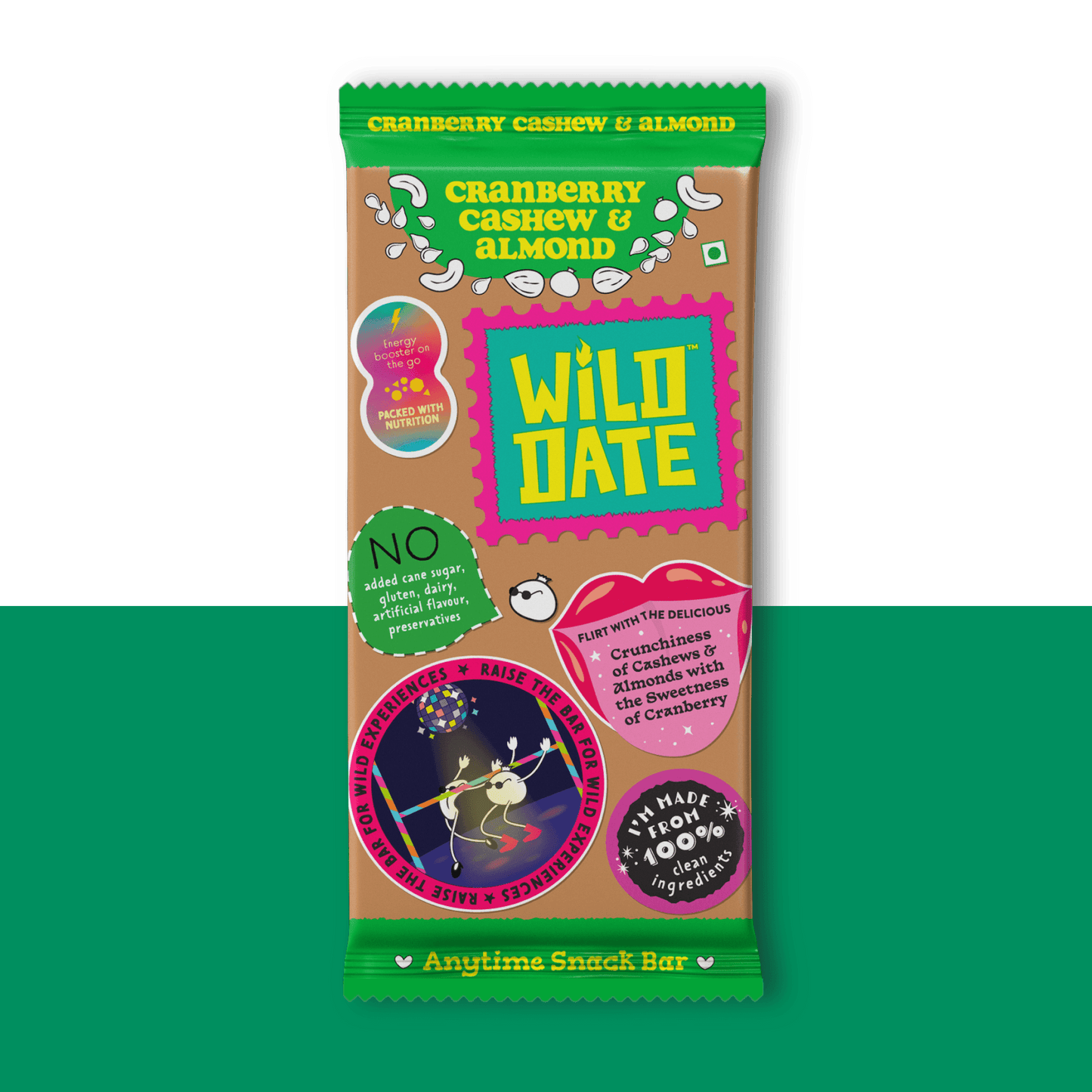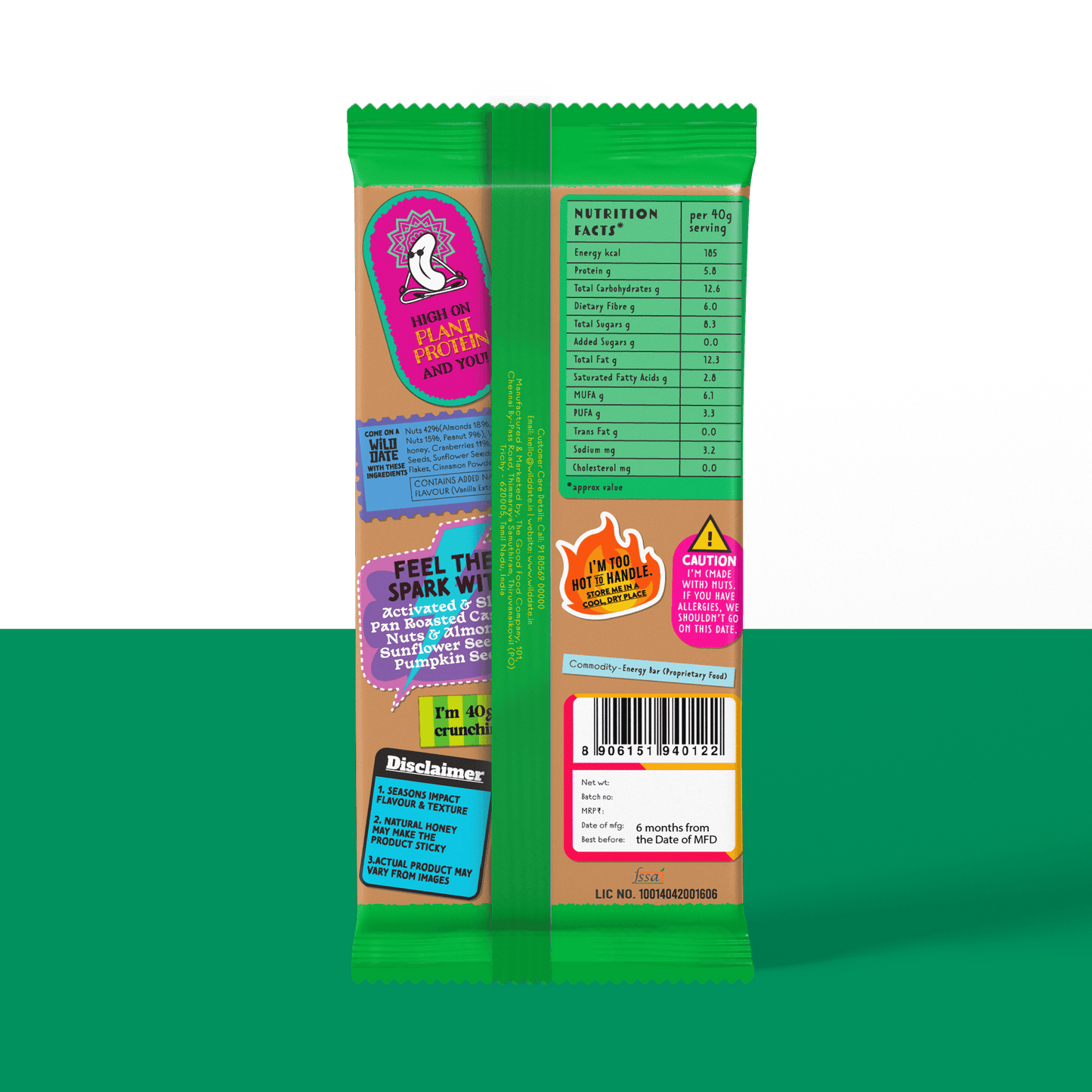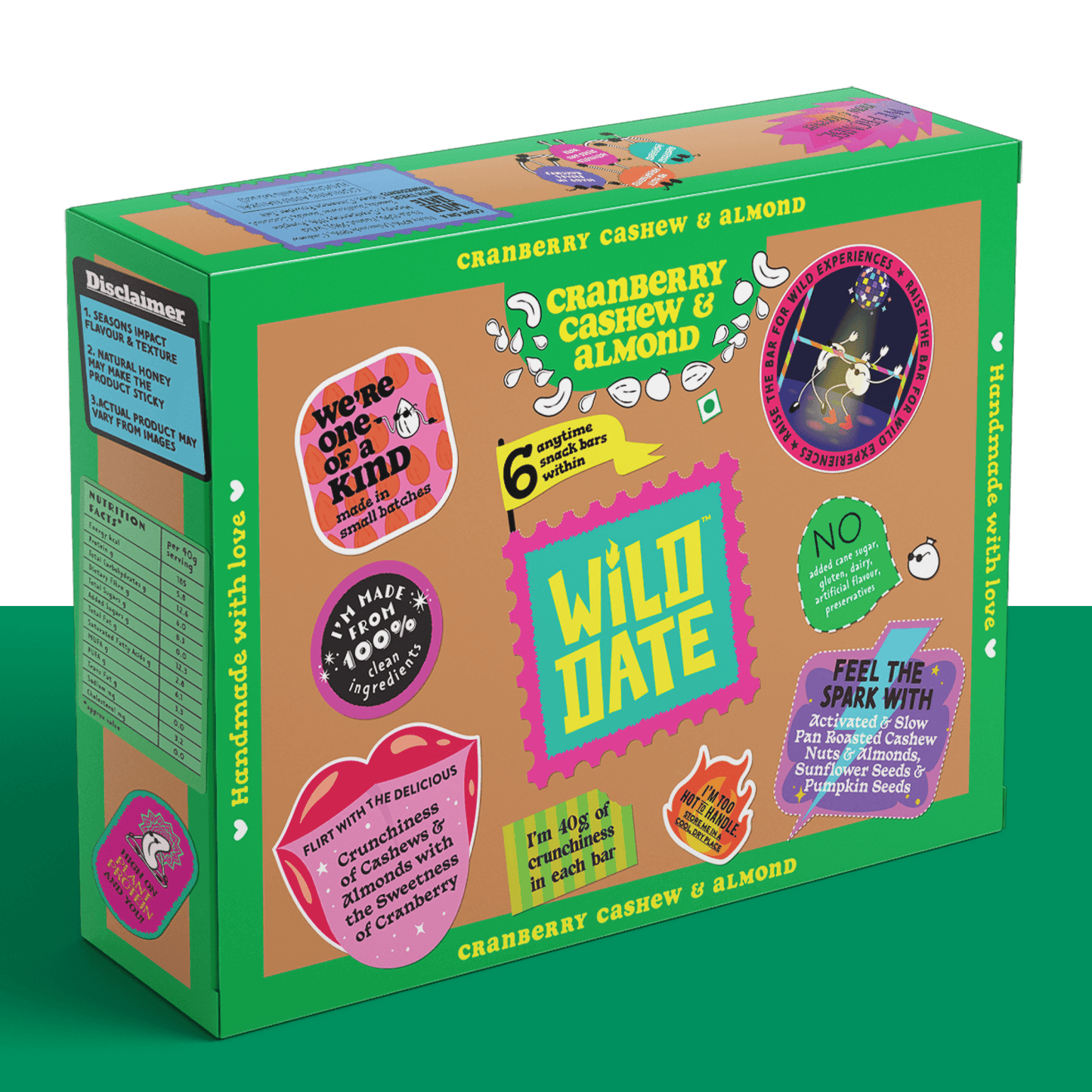 Ingredients
Almonds
Cashew
Cinnamon Powder
Coconut Flakes
Cranberries
Natural Vanilla Extract
Peanuts
Pumpkin Seeds
Sunflower Seeds
Wild-Honey
Everything Natural
I'm a slippery one to pin down ... I have a natural oiliness because I'm full of natural nut butters instead of emulsifying agents.

Give me your love and you'll make me melt ... The only cocoa butter in me is all natural, which means I can melt at body temperature. Handle me with care!

Be kind to me, I'm soft inside ... I don't have any bad binding agents like gelatine or guar gum, so i'm pure goodness for you to love!
THIS COULD BE MORE THAN A ONETIME THING…
I COULD BE ON YOUR DOORSTEP WHENEVER YOU NEED ME, PICK YOUR SUBSCRIPTION AND LET'S MAKE THIS A REGULAR THING.
PICK YOUR WILD DATE

Pick one tasty treat or pick and mix

HOW OFTEN, HOW BIG & WHERE

Fortnightly or monthly? We're here to indulge you on your terms!

ENJOY YOUR WILD DATE

Our treats delivered to your door and packed full of goodness
Very good snack bar. I loved it.
It's most liked by children as well as the adults.
My kids love this brand and this snacks bar. Also they have this as snacks everyday.
It's my favourite snack bar. My family also loves it.
The flavor and taste is very good. Quality is the best.
Taste of cranberry, cashew and almonds.
And the nuttiness of almond tastes amazing.
Worth buying keep it up.